Tuesday, August 18, 2015
Page 6
PERSPECTIVES (Column)
Honorary Badges Evoke Controversies Across the Continent
By ROGER M. GRACE
Fourteenth in a Series
Honorary badges have long been issued, and in some contexts, legitimately and without controversy.
On Aug. 7, 1782, General George Washington, by a general order, established the Badge of Military Merit, to be conferred on non-commissioned officers "[n]ot only instances of unusual gallantry, but also of extraordinary fidelity and essential service in any way." It entitled the bearer of the badge "to pass and repass all guards and military posts as fully and amply as any commissioned officer whatever." (That badge was the forerunner of the purple heart.)
President Dwight Eisenhower on Nov. 8, 1955, received a badge as an honorary member of the Secret Service, the cadre that guarded him.
H. S. Suhrawardy, the prime minister of Pakistan, took a tour of the western states, and by the time of his arrival in New York City on July 24, 1957, according to an Associated Press report, he had acquired "two honorary sheriff's badges, one honorary deputy sheriff's badge, and an honorary police chief's badge."
Crown Prince Constantine of Greece on Feb. 9, 1959, received from Los Angeles County Sheriff Peter Pitchess the honorary badge of the Sheriff's Mounted Posse.
FBI Director J. Edgar Hoover gave out honorary badges. Below is a photo of a presentation on Oct. 31, 1962.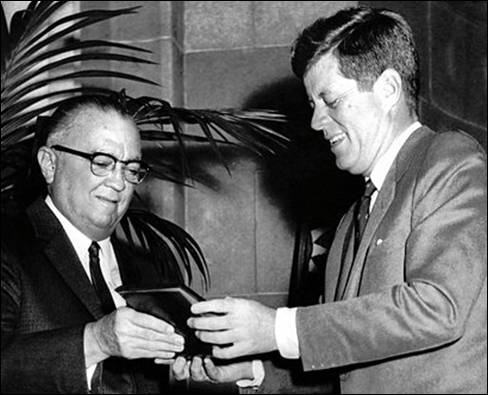 FBI Director J. Edgar Hoover presents honorary FBI badge to President John F. Kennedy.
President Richard Nixon received such a badge from Hoover on May 28, 1969, at an FBI Academy graduation (grunting that fresh out of law school, 32 years earlier, he had been denied appointment as an FBI agent).
It is not likely that Eisenhower, while president or later, would have had occasion to elbow his way through Secret Service lines, flashing his badge; that Suhrawardy would have assumed that he now had arrest powers; that Constantine, who became king of Greece in 1964, would have proclaimed the privilege of galloping through the streets of Los Angeles on a steed, citing his membership in a posse; or that JFK or Nixon would have had occasion to pose as a "G-Man."
But on lower levels, over a span of many decades, misuses of honorary badges have, indeed, occurred.
Widespread abuse of such badges did not begin until the 20th Century when they became rewards for political support, or were otherwise handed out indiscriminately.
Misuses of badges that looked like those sported by actual law enforcement officers have occurred in cities and counties throughout California, as well as at the state level, as recounted in previous installments in this series. But the flashing of honorary badges to gain advantages, based on the emblems being mistaken for official ones, has by no means been unique to California. Office-holders across the nation have given out what have been referred to as "juice badges" or "buzzers."
By way of examples….
Franklin County, Ohio
The Circleville (Ohio) Daily Union Herald on June 19, 1925, bears this banner headline on Page One:
By order of Common Pleas Court Judge E.B. Kinkead, 475 "special" deputy sheriffs were stripped of their posts.
Not affected were the 28 actual deputies appointed by the sheriff. The order was aimed at persons the judge denominated "paper" deputies who sought appointment under the mistaken notion that a badge would entitle them to carry a gun.
"[N]othing could be farther from the truth," the jurist is quoted as saying. "Too many cases come up where persons having special authority are found guilty of crimes, committed while they were shielding then themselves with a badge and ofttimes a gun."
The article says that, according to Kinkead, a special deputy could tote a firearm lawfully only if on-duty or officially called into service.
(The term then included persons who received honorary souvenir badges and were only ostensibly susceptible of being called into service in an emergency, persons now denominated "reserve" officers, and private night watchmen.)
It appears from the article that special deputies held their offices subject to court approval. Kinkead's order required Sheriff Walter Forest Gump to "recall all" appointments of special deputies.
Some behind-the-scenes maneuvering apparently ensued. The next day's edition of the Piqua (Ohio) Daily Call And Piqua Press Dispatch reports that Kinkead had rescinded his order and commended Gump for having appointed less than one-sixth of the special deputies, the balance having been commissioned by his predecessors. In return, Gump would review the bona fides of each of the current special deputies.
What I suspect took place was something along the lines of the conference in chambers in a New York courtroom depicted in the 1947 classic movie, "Miracle on 34th Street." There, a Tammany Hall emissary, portrayed by William Frawley (later Fred Mertz on TV's "I Love Lucy"), counsels the judge, played by Gene Lockhart (an accomplished character actor and father of actress June Lockhart). If he were to agree with the district attorney that a man going by the name of Kris Kringle should be committed as insane, rather than recognizing him to be the actual Santa Claus, he could expect only two votes at the next election: his own and that of the district attorney. (Lockhart shakes his head and laments: "The district attorney's a Republican.")
Who would have received honorary commissions as Franklin County sheriff's special deputies? Political contributors and those otherwise locally prominent.
Springfield, Ill.
The state Board of Fish and Game Advisors on Feb. 22, 1950 turned down all applications—numbering about 2,000—for the unpaid post of "special investigator" for the Department of Conservation, and declared the office to be abolished, according to an Associated Press dispatch.
The previous year, all 9,712 of the investigators, who were charged with arresting violators of fish and game laws, were ordered to return their badges. Only 82 arrests had been made, and there was a plethora of complaints about the investigators.
The AP story recites the board's findings:
"Credentials were misused in 'practicing rackets and soliciting funds for various enterprises.'
"Despite department orders against carrying weapons, four investigators were indicted in fatal shootings.
"One was arrested for impersonating a health officer in an attempted 'shake down' of a tavern keeper.
Two impersonated city police officers and were found 'challenging spooners in the park.'
Another investigator caused the arrest of 30 persons when he misinformed them on regulations governing the taking of roots.
The board said some other special agents tried everything from crossing a toll bridge free to crashing county fair gates by flashing their badges. A number were arrested for infractions of the game laws they were deputized to enforce."
An Aug. 3, 1950 editorial in the Reno Evening Gazette comments:
"That is what happens every time police power is granted on a wholesale basis. The fish and game departments in other states have tried the same experiment, and have dropped it after getting the same results as Illinois.
"Whenever police badges, or, any other tokens of authority, are distributed as honors, or as favors to friends or political followers, trouble is sure to result. That has happened several times in this region. At one time, 'honorary' state police badges and cards showed up in the possession of some rather shady characters. There have been times when deputy sheriff's badges and special police stars were given to persons that could hardly qualify as upstanding and law-abiding citizens."
Baton Rouge, La.
An Associated Press dispatch of April 1, 1954, reports:
"[Louisiana State Police] Supt. Francis Grevemberg said yesterday honorary and sometimes bogus special agents are playing havoc with the state police courtesy program.
"He urged motorists to get the number of any plain clothesmen stopping cars on the highway with a flip of a special agent's badge.
"A 1935 law permits the superintendent to issue the badges to railroad agents, armored car drivers, bank cops, investigators for district attorneys and plant guard personnel.
"Grevemberg said the little silver shields have led to many complaints of abuse of power. A New Orleans badge holder terrorised a whole neighborhood, threatening to jail illegal parkers and hosts of noisy parties.
"The Baton Rouge Chamber of Commerce complained recently a special agent threatened to toss an oil company official in jail during a row over a traffic incident. An investigation revealed his badge had been revoked."
Fort Lauderdale, Fla.
Sept. 17, 1976 newspapers across continent contain this UPI report:
"The motorist who flashed a badge when his car collided with another yesterday and threatened, 'I'm really going to let you know who I am,' didn't impress the occupants of the other auto.
"Brian Phillip Blaney, 26, of Boston, shouted, "You hit a cop," and displayed a badge identifying himself as an honorary deputy sheriff in Massachusetts' Middlesex County.
"The two men in the other car said they had badges, too. The two Fort Lauderdale detectives in an unmarked patrol car arrested Blaney on charges of driving while intoxicated and impersonating a policeman."
Volusia County, Fla.
A Florida Supreme Court decision in a murder case reflects the liberality with which law enforcement credentials were provided to non-officers in the 1970s and 1980s.
Roy Allen Harich in 1981 brutally slayed an 18-year-old woman after sexually assaulting her near Daytona Beach. He was tried before a jury, with Assistant Public Defender Howard Pearl representing him.
The trial took place in Florida's Volusia County. Located in the eastern-central portion of the state, Volusia's western tip collides with Marion County.
Harich's 1982 conviction was affirmed; habeas corpus relief was denied in the federal courts; the governor had signed a death warrant. In a last ditch effort to avoid the electric chair, Harich beseeched the Florida Supreme Court to relieve him of his 1982 conviction for first degree murder and other felonies because of ineffective counsel. He protested that unbeknownst to him at the time, Pearl was a special deputy sheriff in Marion County, creating a per se conflict of interest.
The high court, in a per curiam opinion rendered Dec. 13, 1990, affirmed the trial court's denial of postconviction relief and adopted its findings, which included these:
"Pearl became a special deputy sheriff for Marion County in 1970. This status continued until Pearl resigned in May of 1989. Pearl paid liability insurance each year and he was bonded. He was issued a deputy's card, and the card erroneously identified him as a regular deputy. He also took an oath of office. Pearl also purchased a deputy sheriff's badge from a gun shop.
"Pearl's sole reason for becoming a special deputy was to permit him to carry a firearm. He wanted a 'gun toter's permit.' Pearl never intended to act as a deputy, and the sheriff of Marion County never intended for Pearl to act as a law enforcement officer."
Aside from being a "special" deputy in Marion County, Pearl had been an "honorary" deputy in Volusia County since 1973. The trial court made this finding:
"[Pearl] performed no duties as a Volusia County deputy, and none were expected to be performed by him. The card was issued by the sheriff for good will and/or political purposes. It was issued to dignitaries like television personality Willard Scott, and was even issued by the sheriff to newborn babies. This card was solely honorary."
Harich was executed in 1991.
New York City
The New York Daily News's Jan. 30, 2005 edition carries a feature that begins….
"They carry shimmering gold badges and police identification cards—but they aren't real cops. Well-connected, megarich and accustomed to privilege, they are the honorary police commissioners of New York City. The choice plum is a time-honored way for the real police commissioner to thank benefactors who have given substantial funds or services to police causes or charities. Most are millionaires. At least seven are billionaires. Many live out of town. A few don't even live in America. Among those who carry the imprimatur of New York's Finest: developer and TV star Donald Trump….
It quotes former Mayor Ed Koch (since deceased) as commenting:
"It's disgusting and too foul to put into words. They're taking the most precious jewels of New York City and distributing them to people who can use them to get out of speeding tickets. Have they forgotten those badges mean something?
The article notes that Koch was one of those who had such a badge.
It says that some recipients of the badges "impishly admit the badge has let them wriggle out of jams," pointing to Irish track star Eamonn Coghlan, as an example. He received a badge from John Timoney, when he was the No. Two man in the New York Police Department (1995-98).
This account appears:
"Coghlan recalls accepting the gold badge, with blue inlay and a single silver star, and asking, 'What do I do with this?'
" 'You don't do anything with it,' he quotes the Dublin-born Timoney as telling him. 'But should the opportunity arise, you can say, 'Will this be of any help, sir?'
" 'Coghlan remembered Timoney's words when he was stopped one night in San Diego for speeding. He said he apologized and slowly maneuvered his driver's license out of his wallet—until the cop saw the badge and let him off with a warning.' "
Copyright 2015, Metropolitan News Company